Customer reviews
Customer Reviews
04/01/2020
Jassi .
Canada
Cute Jumpsuit
I was only able to order an XL due to quantity left on the website. I was very glad I did. I have a preference for harem style pants and jumpsuits. By ordering much larger (typically a Medium) I have a fit that is perfect for my liking. The material reminds me of a good quality TeeShirt Material. I am very pleased with the workmanship quality. I had to come back to the website pictures to figure out how to fasten the ties, so there is that. lol.
03/19/2020
Jordana
Canada
Love it
Very happy with my purchase. It's super cute on. Fit very true to size but that being said, not all 5'7" 150lbs women are going to have the same build so, just so happened that it worked perfectly for me. I thought I would hate the way the straps are and that I'd have to get them sewn on a different way but I'm honestly ok with it and they don't really bother me much. Overall, super comfortable and I'm glad I decided to buy them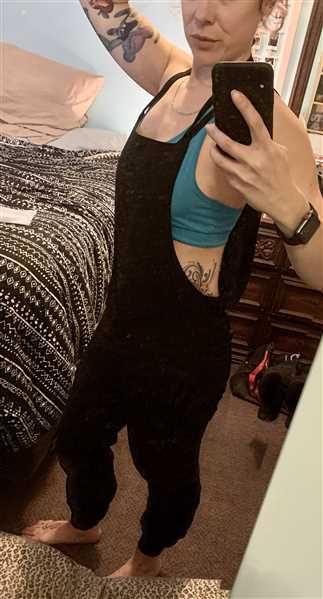 12/12/2019
Monique A.
United States
Love them!
High quality material and adorable fit! I love that you can adjust the straps!
12/05/2019
Nicole
United States
11/28/2019
Krisinda B.
Canada
Post Baby Life Saver
Fit great, while still pregnant at 35 weeks. Excited to use them for after kiddo's arrival. I purposely purchased larger size because I wanted them roomie for easy movements & to avoid tummy pressure right after delivery.
11/05/2019
Jessica Z.
United States
I love them!
I just tried these on & they fit perfectly! I am 103lbs & 5'5" & they fit great! I ordered an XS & so happy that I did. I almost ordered a small only b/c I saw XS was sold out, but I'm so happy that I waited until XS was back in stock. I'm pretty sure if I did order a small, I don't think they would've fit as great. Love these! :)